Welcome to the latest Pendraken newsletter!
Welcome to the latest news at Pendraken HQ!
We've got more new releases for you this month along with all of the info and offers for our big 30th Birthday Bash!
---
Saturday 16th July is our 30th Birthday!
We're not far away from our big 30th Birthday celebrations now so we hope to see some of you here.  We've got 7 Games booked in (details below) and we'll have special offers running in the shop, as well as food, drink and cake!  The Birthday Bash will be open from 10am – 5pm (or until the games have finished!)
We've activated a discount code for anyone who wants to place pre-orders to collect on the day, so simply enter BIRTHDAYBASH in the checkout to get 10% off your orders.  We'll get them ready for you to collect from Pendraken HQ.
For those further afield, we'll be running a similar 10% Sale during the whole 30th Birthday weekend (Sat 16th/Sun 17th July) so make sure to grab yourself a bargain and help us celebrate 30 years in the industry!
We'll be running Workshop Tours during the day so keep an eye out for further info on these.  We'll take you through the different aspects of our business and show you how a sculpt becomes a metal casting, as well as our laser and 3D machine setups.
For all of the details, head over to the Forum here and if you're a Facebook user you can add your interest to our Event page here.
Confirmed Games:
Attack on Wimentun Village (Baron Wars 1215-17) by Prince Bishops Wargames Club
Race to the Channel (France 1940) by Border Reivers/Under the Bed Painting Service
Battle of Teplitz (Seven Years War) by the Old Guard Wargames Club
Gunfight at Pendraken Gulch! (Wild West) by the Brompton Bankers
Somewhere on the Aragon Front (Spanish Civil War) by the Border Reivers / Northumbrian Painting Services
Eastern Front (WWII) by Durham Wargames Group
Stargrave (Sci-Fi) by Redcar Ironbeards
---
Arab-Israeli ranges released!
We're really ticking off the big projects at the moment and next to be completed is our eagerly-awaited Arab-Israeli ranges!  We've got Egyptians, Israelis and Syrians online, covering a wide selection of infantry, support and artillery too, so head over and have a look here!
These ranges have been designed for the 1973 Yom Kippur War but many of the codes will work for the 1967 and even 1956 conflicts too.
We've got a lot of armour for these conflicts in our other ranges so we've added these to the new categories to make it easy to pick and choose everything you need.
And if you'll be playing Cold War Commander 2, we've added the Arab-Israeli army lists for you to download from the Army Lists page here.
---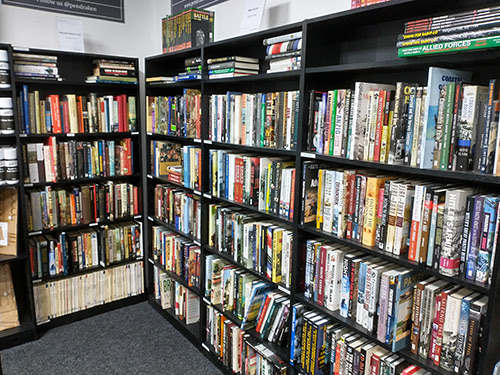 Books for Sale!
A quick reminder to everyone that we've got 3500 books for sale that aren't available through our website.  You can find the full lists here and to order anything, just drop us an email and we'll get them ready for you.
---
Claymore in Edinburgh!
Just a quick reminder that our next show is the excellent Claymore event taking place up in Edinburgh on Saturday 6th August.  We'll need any pre-orders sending through by midnight on Friday 29th please.
---
Important Dates

Sat 16th July – Pendraken 30th Birthday! (more info coming next month!)
Sat 6th August – Claymore in Edinburgh (pre-orders by Fri 29th July)
Sat 10th September – Colours in Newbury (pre-orders by Fri 2nd Sept)
Sat 17th September – Border Reiver in Gateshead (pre-orders by Fri 9th Sept)
TBC – Carronade in Falkirk (awaiting confirmation)

---
Thanks for reading, we hope to see you at our Birthday Bash!