FAQs
Who are Pendraken?
Pendraken Miniatures was formed in 1992 by Dave and Lynne Pengilley, focussing on 10mm scale miniatures. As the business grew, more members of the family became involved in the business and we've all now worked for the company at some point. The current workforce consists of:
Leon - Chief Cog Greaser: Answers your emails, looks after the website and Forum, plus dealing with sculptors and new releases.
Adele - Milady: Loads of admin, deals with accounts, packaging, show prep and other random jobs!
Dave - Chief Moulder/Caster: Our founder, takes care of all the moulding and casts the 20th Century products.
Mike - Casting Monkey 1: Casts everything from 1700-1815 as well as Fantasy and Sci-Fi.
Ian - Casting Monkey 2: Casts everything pre-1700 and from 1815-1914.
Joshua - 2D3D: Joshua looks after our laser room running all of our laser machines and 3D printers.
Jess - Post'n'Pack: Jess is one half of our posting team and also packages all of the stock for the shop and show stand.
Jacqui - Pack'n'Post: Jacqui is the other half of our posting team as well as other odd jobs.
There is also a large team of designers as well, including Tony Q, Phil Lewis, Steve Cox, Matthew Kallechy, Clibinarium, Bob M and Dennis S, so quite a few people in the Pendraken machine!
---
PRODUCTS / WEBSITE
What scale is 10mm?
10mm is generally regarded as being equivalent to N-gauge, so between 1:148th and 1:160th. Our vehicles are scaled to 1:150th to sit within that range, with the foot figures usually being 10mm to the eye and around 11.5mm overall height. This gives a real life height of around 5ft 8inch. There are slight variations between different sculptors, but we do try and keep to a standard size across our ranges. As we're almost 30 years old now, there are some older ranges and vehicles that were sculpted a long time ago and we'll be replacing these as we move forward.

I am outside the EU, do I pay VAT?
No you don't, the website shows both VAT and ex-VAT prices for you. When you place the order through the website, the Basket will automatically deduct the VAT from your order when you get to the Checkout. Printed materials are 0% rated for VAT, so there is no VAT to be deducted from our rulesets.
I am inside the EU, are you using the IOSS system?
Our new website is fully compliant with the IOSS system so our EU customers will be charged the correct rate of VAT at Checkout, to avoid any extra fees/handling charges once the package arrives in your country.
Please note that IOSS can only be used for orders below €150 in value (around £135, excluding shipping) so any orders above this value will have zero VAT applied. The VAT on these larger orders, along with any handling fees, will be calculated by your own customs authority and you will need to pay these charges when your order arrives.

Can I change the composition of the army packs?
Our army packs are all discounted by 10%, and are often designed to match up with the composition of our moulds. However, you can change upto 2 of the packs within them, so swapping 3lb guns for 6lb guns, or swapping Dragoons for Hussars is fine. Once you have placed your order through the website, just pop us an email to let us know the changes you'd like to make.

Can you produce custom sizes of MDF bases?
No problem at all, just get in touch to confirm the sizes you need and we'll get back to you with a quantity per pack. Orders can then be placed using the custom 'BSX', 'BCX', 'BHX' and 'BOX' codes at the bottom of the base lists and inputting your requirements in the text box. The quantities per pack can be found on our Bases Matrix.

What thickness of MDF do you use?
Our standard thickness is 2mm but we can also provide 3mm on request.
---
ORDERING / ORDERS

How do I place an order?
You can order by several methods:
- Website - Ordering through our website is the easiest option and payments can be made by card, PayPal or cheque.
- Email - Send us your order using the 'Contact Us' section of our website, including your address, and we'll get back to you to confirm the price and your preferred payment method.
- Telephone - Give us a ring on 01642 460638, and we'll take your order and card details over the phone.
- Mail - Send us your order in the post along with a cheque made payable to 'Pendraken', and we'll get it all sorted out for you.

How much is shipping?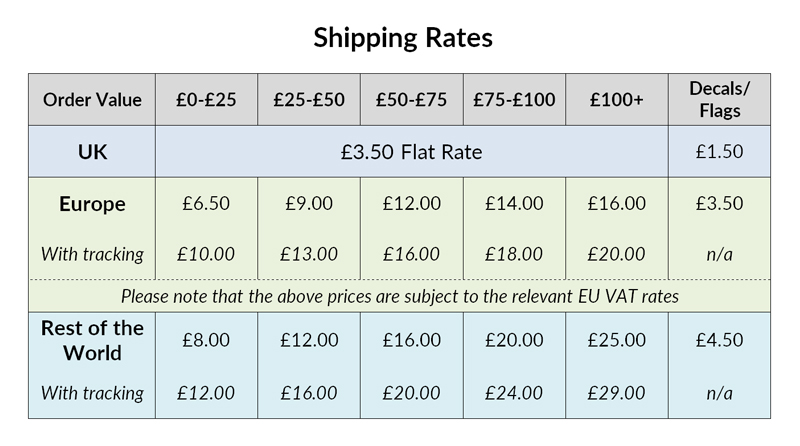 Do I have to register on the website to place an order?
No, you can choose to Checkout as a Guest instead. Registering for an account makes it a lot easier to track your order and view previous orders though.
My order is showing as 'Pending', what does this mean?
The Pending status means that we have received your order and it is currently being prepared. Miniatures will usually take around 7-10 days to get cast up depending on how busy we are. Stock items should be shipped out in 1-3 days.
How long does it take to receive my goods?
Due to us having over 4400 miniatures items in our catalogue now, we do not hold stock of figures and all of our products are cast to order. We normally aim to get everything cast up and sent out within around 7-10 days, but this can take longer when we are busy with shows, or due to illness, etc. We do keep accessory items on hand, so bases, paints, decals, resin buildings, etc, are all in stock and are generally shipped within a few days.

Can I visit and pick up an order in person?
Yes, our shop is open 11am-5pm during the week and 11am-4pm on Saturdays. We are occasionally closed if we're away at a wargames show so please check our Events page to see when we're away. Orders can be placed through the website or by email and please allow us 48 hours to get everything ready for you.

Can I pick up an order at a show?
Yes, show orders can be placed through the website or by email, no problem! The website has a 'Collect at Show' postal option available, so simply choose this at the Checkout and then add the event you'd like to collect at in the Comments box on the following page. Alternatively you can email us a list of what you would like and we'll get it all prepare for your chosen event. Please note that we need pre-orders sending through at least 7 days before the event, to give us chance to get them ready for you.

Can I make custom orders?
Yes, we can do custom orders on most of our ranges. The best thing to do is send us a list by email, stating which code and figures you would like, for example NPF1 - French Line x 24 figures, NPF3 French Officer x 3 figures, etc. We will total everything up, and get back to you to confirm the price and your preferred payment method. Please note that custom orders are priced higher than regular orders.

Can you send me samples?
We can send out some samples, no bother at all. Send us an email stating which ranges you are interested in, and also your address, and we'll get some sent out for you.

Can I buy your products elsewhere?
We don't have many shops who stock our full ranges so currently the only stockist is in the US:
Dark Horse Hobbies (USA) - https://darkhorsehobbies.com/

I ordered through the website and then added some items by email as well, but these are not shown on my Shipment Confirmation email?
We are unable to edit the orders already in our website, so the order shipment confirmation will only show the items on your original order. Nothing to worry about though, if we confirmed receipt of your extra items, and you've paid for them, then they will be in the package as well. Once it arrives, give it a check over and let us know if there's any problems.
---
SHIPPING

How long does it take for my items to arrive?
- UK packages are sent 2nd class and are usually delivered within 1-2 days normally. There can be delays caused by Bank Holidays, Christmas, etc.
- European packages are sent by Airmail, and are usually delivered within 7-14 days normally. Occasionally there are delays depending on where you are.
- Rest of the World packages are all sent by Airmail, and should be with you within 7-14 days usually. We do get the odd package which is rerouted by Surface by the postal people, so these can take a lot longer, up to 6 weeks sometimes. Luckily this doesn't happen very often. There can also be delays caused by the various Customs people around the world.

For all orders, please allow a suitable length of time before contacting us, 7 days in the UK, 2 weeks in Europe, and 4 weeks for the Rest of the World if possible. Unfortunately, once the package leaves our hands, there's not a lot we can do to speed up its delivery.

What shipping method do you use?
The majority of our packages are sent through Royal Mail, either 2nd class in the UK, or Airmail for international packages. We will occasionally use courier services, but this is generally on larger orders over the 2kg threshold, where the costs through Royal Mail become quite high.
---
MISC
Are you adding figure 'X' to your ranges?
We are constantly releasing new items so there's always something new on the way and we update our Forum regularly with the latest sculpts to arrive at Pendraken HQ. If there's something which you'd like to see added to our catalogue, the best thing to do is make your suggestion on our Forum, and then other people can add their votes. The more votes it receives, the more likely it is to reach production!
---
Can't find an answer to your question? Fill in the Contact Form below to get in touch with us: